The Best 10 Evening Snacks To Munch On This Monsoon
Monsoon is here, and most of you will be happy to stay indoors, enjoying the beautiful rain while some will be depressed to stay indoors. But, all will be happy with the very thought of the snacks that you can munch on with the rain in the evenings. A hot cup of tea with some good snacks too much on is the best way to enjoy the Monsoon rain. In fact, nothing can beat the goodness of being with the family over a cup of tea and enjoying the rain.
So, what are your choices of snacks during Monsoon? You might have a flash of a list of menus in your mind which your mom makes and serves on a plate, which you grab and finishes within seconds! Samosas are very common during this time. Check out for some good evening snacks that you can munch on anytime with a hot cup of tea on a rainy day.
Crusty Potato Fingers
Potato fingers are nothing but long-cut potato, dipped in a specially prepared batter with ginger, green chillies, and onions and then it's again dipped in crushed corn flakes. It is deeply fried and then you can get that crispy and crunchy bite. It is truly yummilicious. You can buy easy potato cutter to cut these potatoes evenly, to get the perfect look for your fingers here.
Buttered Cup Corn
Anything that is made with corn is yum to have during a rainy day. Steam the corn and serve it in a cup with a spoonful of butter that melts and with the corn and give you the most lip-smacking taste that will make you eat them more and more. You can add a pinch of pepper powder if you want it to be a little spicy.
Bombay Toast
It is a very popular snack made with bread, milk, ghee, and sugar. It is also eaten as a breakfast. But having a not so sweet dish is also a good choice for Monsoon evenings. Try them any of these evenings. It is indeed an easy to prepare the dish.
Vadas
There are in fact a lot of varieties of vadas that are yummy. Medu vada, urad dal vada, onion vada, corn vada, spinach vada and the list goes on. You can make vada with any of these. They will be more crispy and crunchy. The taste will be good with green chillies, ginger and coriander leaves.
Banana Fritters
It is a Kerala evening snack that is one of the most popular. Ripe Bananas are cut into pieces and then dipped in a batter made with maida, turmeric powder, and sugar. It is then deep fried in Coconut Oil. People do add sesame seeds for a taste. You can try it if you too like the fried taste of sesame seeds.
You can now order fruits and vegetables online via online grocery stores.
Pakoras & Kachoris
Pakoras and Kachoris are again the most popular and common evening snacks too much on during a rainy day after Samosas. There are a lot of varieties of Pakoras and Kachoris depending on the ingredients and the fillings. They are tasty, crunchy and super good to have with your tea during any time of the day.
Cutlets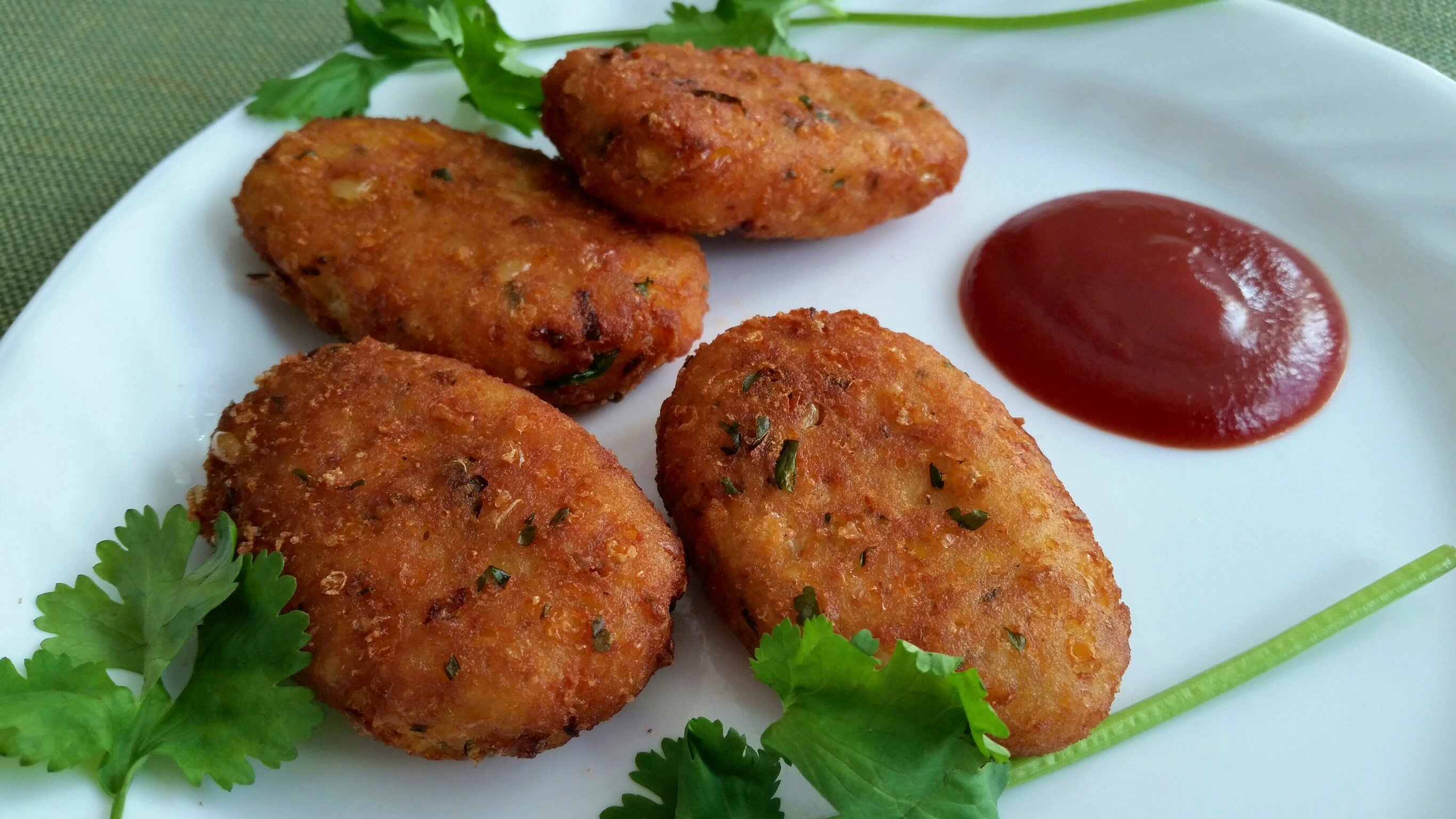 You can make veg or non-veg cutlets. For veg cutlets, you can make fillings with beetroot, potato, cauliflower, corn and also mushroom. For non-veg, you can use minced meat like beef, chicken, pork, etc. Add onion, green chillies, ginger and mix them with the main ingredient to make a shape to you like, dip it in egg and roll it in breadcrumbs and deep fry. The egg can be replaced with all-purpose flour paste for vegetarians.
Unni appam
Unni appam is made with rice, small bananas, jaggery, ghee and fried coconut pieces. Rice is grinded. Mashed bananas mixed with jaggery is added to the rice and mixed well adding a little of the ghee and the coconut pieces and then keep it aside for some time. Now, you can fry them on the peculiar appam maker with a small cavity inside it.
Order your appam maker now to get it at a low price. Check out Amazon India.
Bhaji
Bhajis come in a lot of varieties, and this can be an easy preparation anytime. All you need is the ingredients, and so you will have a plate of yummy bhajis made with chilli, raw banana and lots more.
Ela Ada
Ela Ada is again a popular South Indian breakfast which can also be eaten as an evening snack during Monsoon. You can make different kinds of adas depending on the fillings you choose. You can make it with coconut and jaggery, jackfruit, mango, coconut and sugar and so on.
The Best 10 Evening Snacks To Munch On This Monsoon
by
Gayathry
Related posts