Top 5 Smartphones To Buy In 2014
CouponRani, 8 years ago
0
9 min

read
Here is Our Pick of Top 5 Smartphones In India for 2014
It  is hard to find the right smartphone when there are hundreds of best mobile phones in the market. Before going to mobile outlet to get a smartphone for you, one thing that has to be considered which smartphone is suitable for you and for what purpose the phone is used. For some android is much-friendly to use but for some windows is there favorite. Android devices performance differs from Windows devices performance so know your compatibility with the OS and then choose the right smartphone. If you are opting for gaming purpose, then you can go for some gaming smartphones that are designed specially for game lovers. In the case, the smartphone that you are buying for business purpose then there are lots of powerful-functionality smartphones from low-price to high-price.
There are lots of mobile phones launched in the year of 2014. Many top branded companies like Samsung, Micromax, Nokia, Motorola, and Gionee, have released powerful and outstanding performance smartphones to smartphone. In the market, the smartphones released in 2014 are available from high to low pricing. In online shopping websites, you can buy newly launched smartphones at cheaper price and get a good discount on the original price of a smartphone. It is not that the mentioned smartphones are only ones that are bestselling in the market. There are many smartphones that have been grandly launched this year of 2014 and are bestseller in the technology market. These listed smartphones are just randomly selected phones from the launched mobile phones.
1) Micromax Canvas XL
For better visibility and enhanced camera experience, go for Micromax Canvas XL. Micromax Canvas series phones launched has very good features and advanced applications preloaded in it. This Micromax Canvas XL sports 15.24cm (6-inches) TFT QHD touch screen display. With this large screen display, you can have comfortable viewing and readability experience. The graphics high-definition gives rich picture quality display while watching movies/videos and playing HD motion games. To store data in the smartphone, Micromax has embedded 1.7GB of internal memory space in Canvas XL smartphone. Other than internal memory, there is also external memory slot provided which can be expandable up to 32GB using MicroSD memory card.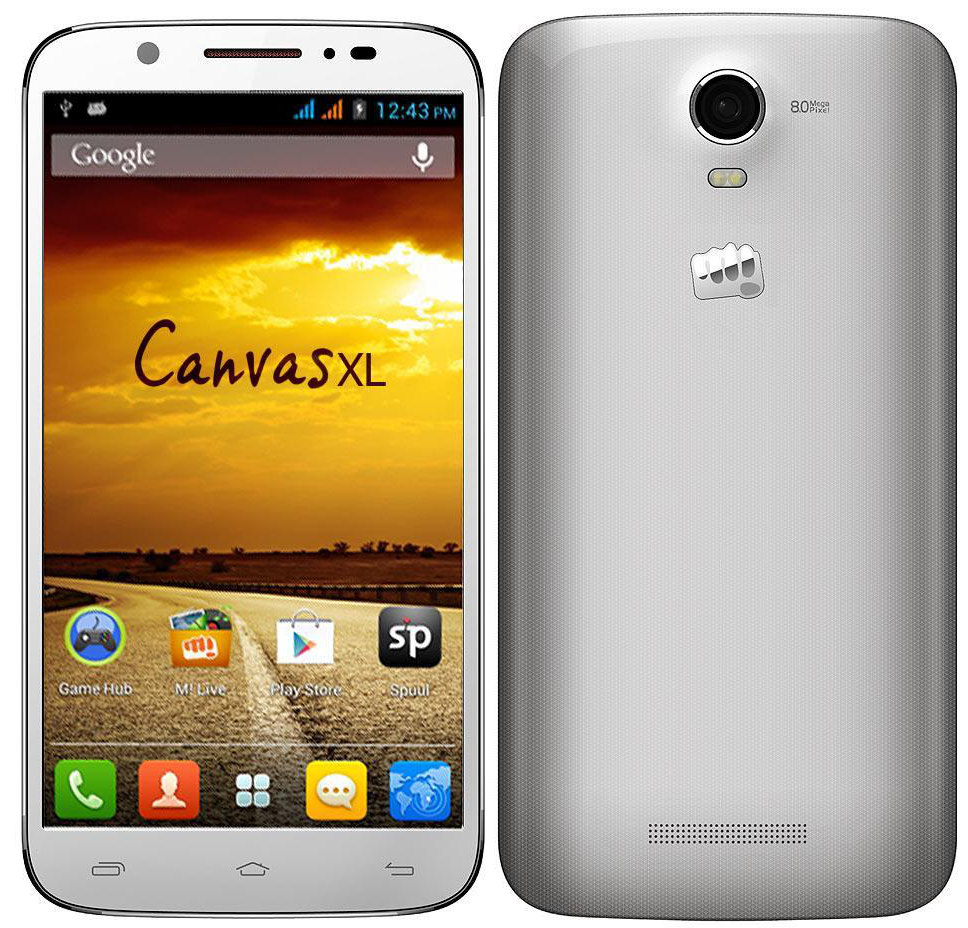 There is also 4GB ROM and 1GB RAM support which boosts the storage capacity of this smartphone. The 3.5mm universal audio jack boosts the music player to play songs of high-quality with crystal clear voice clarity. Enjoy the beat or tune and get the lyrics clearly in Micromax Canvas XL. The multimedia applications provide superb entertainment and get relaxed with the apps embedded in this smartphone. Micromax Canvas XL is equipped with standard connectivity features which include Bluetooth, USB, WI-FI, GPRS, and GPS. The social apps embedded in this smartphone lets be in touch with your world of friends and family wherever you go. As the smartphone is a dual Sim smartphone, you can use two networks of same or different numbered sim cards to stay connected with people you know.
The most important thing to know is about the camera, Micromax Canvas XL has 8Megapixel primary camera and 5Megapixel secondary camera. The camera is supported with features like flash and auto-focus. With 8MP camera, you can capture pictures of rich quality and high-quality videos without any vague impressions. The resolution offered is 1280x720pixels; this suggests that you can have superb clarity and high-quality photos as well as videos. To enjoy features and use applications, it  is must have good battery power. To give a boost to apps, Canvas XL is packed with high-stamina 2450mAh battery which provides 9.5 hours of talk time and standby time up to 209 hours. Micromax Canvas XL is powered by 1.3GHz Quad-Core Processor and runs on Android ever.4.2 Jelly Bean operating system.
2) Motorola Moto G
Moto G from Motorola is a huge-hit in the android market of technology. Motorola made its come back with launching Moto G smartphone. This smartphone is an entry-level smartphone that comes within the pocket-budget. The display screen of Moto G is 4.5-inches (11.3cm) 1280 x 720 HD touch screen and is protected by Corning Gorilla Glass that prevents from scratches. There is 8GB/16GB memory space available with this smartphone, there is no expandable memory and also Moto G has 1GB RAM support. Coming to the camera, Motorola Moto G boasts 5megapixel rear camera and 1.3megapixel front-end camera. The camera is supported by dynamic features like LED flash, 4x digital zoom, Slow motion video, Burst mode, Auto HDR, Panorama, and Tap to Focus.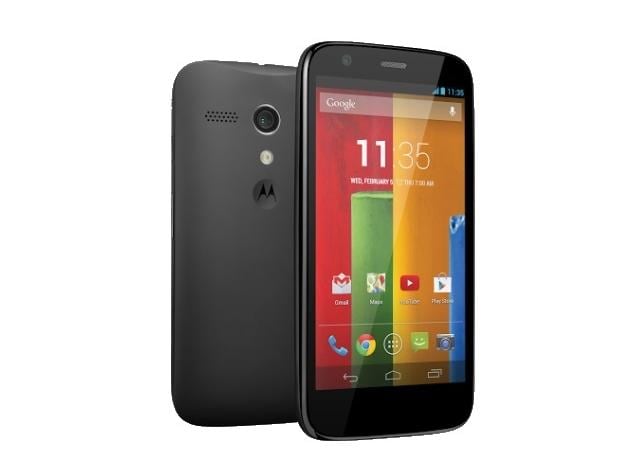 Capture brilliant quality and crystal clear photographs as well as videos without any vague impressions. The front-end camera is  for video calling purpose. The connectivity features embedded in this smartphone include GPS, Bluetooth, GPRS, WI-FI and USB. These features provide faster connection to the internet for downloading, browsing, and sharing anytime anywhere. The multimedia applications keep you entertained all the time and the social applications preloaded allows being in a social world of friends always. Motorola Moto G is bundled with rechargeable lithium-ion 2070mAh high-stamina battery which provides overall usage time of 24 hours. Moto G is powered by 1.2 GHz Quad-Core Qualcomm Snapdragon Processor and runs on Android 4.4 KitKat operating system.
3) Nokia Lumia 1320
There are many Lumia series smartphone has got launched by Nokia but Nokia Lumia 1320 standout as a bestseller among all. Firstly talking about Nokia Lumia 1320, the display screen of this smartphone is 15.24cm Clear Black IPS LCD touchscreen display. Watch movies/videos, view pictures, read eBooks, play games and do much more activities comfortably in this large screen smartphone. The phone comes in sleek body design with smooth curvy edges. For storage, Lumia 1320 has 8GB internal memory with 1GB of RAM support and the expandable memory can be used up to 64GB. In addition to this, there is also 7GB of cloud storage space. Download, share and browse content online anytime anywhere quicker and faster with the help of connectivity features.
The social apps preloaded in this smartphone also enable to be in touch with people all the time. When it comes to battery capacity, Nokia has never compromised on quality; the handset launched till now by Nokia has very good battery standby time. Even Lumia 1320 has high-stamina Li-ion 3400mAh battery. With this long lasting battery get talk time up to 25 hours, music playback time 98 hours, video playback time nine hours, Wi-Fi network browsing time 11.5 hours and overall standby time are up to 28 days. The battery embedded in this smartphone is not removable. Nokia Lumia 1320 is powered by 1.7GHz Dual-Core Qualcomm Snapdragon Processor and runs on the operating system of Windows 8. Well, if you are looking for smart-looking and smarter performance smartphone then go for Lumia 1320.
4) Samsung Galaxy S5
Experience smartphone with lot of functionality in one device of Samsung Galaxy S5. Galaxy S5 comes in a modern glam body with perforated pattern. This smartphone is available in four different vibrating colors like Electric Blue, Shimmering White, Charcoal Black, and Copper Gold. Its sharp eye-catchy design makes the smartphone to love. The Samsung Galaxy S5 sports 5.1-inches FHD Super AMOLED touch screen display with 1920×1080 pixel resolution and 432 ppi. Multiple audio and video formats are supported in this smartphone. Well, enjoy listening to your favorite music or watching many loved HD movies in Samsung Galaxy Smartphone uninterruptedly. Capture rich quality and crystal clear photographs and videos without any vague impressions in any environmental setting.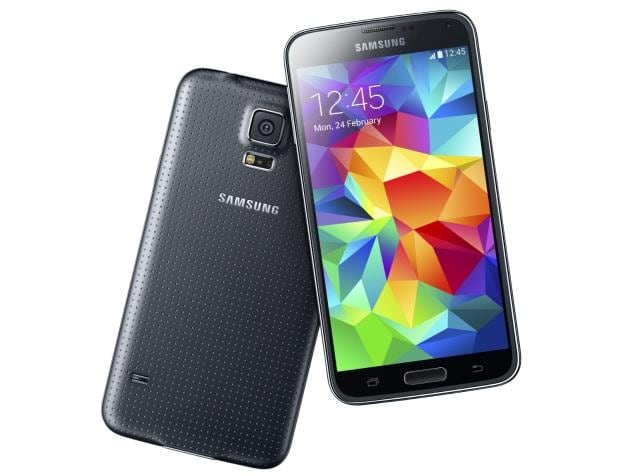 To capture images and shoot videos, Samsung Galaxy S5 comes with 16MP main camera and 2MP secondary camera. For storage, the smartphone Galaxy S5 features 2GB RAM with internal memory 16/32GB user memory and also up to 128GB MicroSD Card slot is offered.  With this large storage space, storing important files and saving digital media content will be at ease. The connectivity features include in Samsung S5 is Wi-Fi, Bluetooth4.0, and also supports USB 3.0 and also lower USB version, as well. With dynamic connectivity feature support download, watch, play, browse, read or share rapidly and quickly from this Galaxy smartphone. Samsung Galaxy S5 is packed with Li-ion 2800mAh battery which provides good standby time. Samsung Galaxy S5 is powered by 2.5GHz Quad-Core Processor and runs on the operating system of Android 4.4.2 (Kitkat).
http://www.youtube.com/watch?v=-XseHZyvGtg
5) Sony Xperia Z1 Compact
Sony Xperia Z1 Compact is a water-proof smartphone launched from Sony. Xperia Z1 Compact is ideally suitable for people going on adventurous trekking and hang-out in water sports activities all the time. Xperia Z1 Compact smartphone comes with high-functionality features and enhanced applications. The smartphone Z1 Compact from Sony Xperia comes in ultra-portable body design with curvy slight edges of premium metallic framing. The dimension of this smartphone is 127 x 64.9 x 9.5mm and weighs bit heavy 137 grams but can be carried in hand or pocket comfortably. The smartphone looks clean and neatly designed device. The device is powered by 2.2GHz Quad-Core Qualcomm Processor and runs on Google Android 4.4 (Kitkat) operating system.
The smartphone Xperia Z1 Compact comes with 4.3-inch Triluminos touch screen display and is supported by X-Reality and Mobile Picture Engine. Watch movies or videos and read eBooks in high-definition quality screen of Xperia Z1 Compact. As the phone is a water-proof smartphone, the device can be kept in fresh water up to 1.5m for 30 minutes only. The phone is also dust-proof, so it is like a dual treat for adventure lovers. With no worry of getting damage, take Xperia Z1 Compact anywhere into deserted or watery regions to take best snap of your journey.  In compatible to this, Sony Xperia Z1 Compact has 20.7megapixel camera with Sony Exmor RS and Mobile Image Sensor.
Using the high-featured camera of Xperia Z1 Compact you can capture high-quality; rich color and crystal clear photos, as well as videos without any vagueness. The other apps and features of this smartphone are also superb. There is a very good battery standby time provided in this smartphone of Xperia. The device Xperia Z1 Compact is bundled with Li-ion 2300mAh battery which provides talk time up to 18 hours and standby time up to 670 hours. The battery also offers music listening time up to 94 hours and video playback time up to 12 hours. Xperia Z1 Compact from Sony is the perfect device for those searching for adventure usage mobile phones for their incredible journey.
Top 5 Smartphones To Buy In 2014
by
CouponRani
Related posts